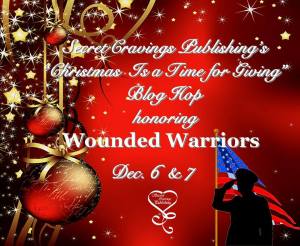 I am so happy to be a part of the Wounded Warriors Blog Hop! Please click the picture to go to the page and see how you can help.
I am also giving away a copy of EVERY SINGLE ONE of my ebooks to a lucky reader. That's 18 books in total! All you have to do is comment to this post right here and leave your name and email address. The entire cost of the books will be donated by me to the woundedwarriorsproject.org.
Please check them out and donate if you can. This is a cause that is near and dear to me and I would love any and all support.
Creating Bill and Mike has been a joy to me and being able to bring a little part of my immense respect and support of the military into my series has been super important to me. Bill was created out of respect to my grandfather, Lieutenant Colonel Herman Nadler. He was a career military man and was one of the men leading the charge at the battle at Normandy. He was an inspiration to me and I hope Bill and Mike honor that legacy.
The contest is open today and tomorrow only. Please enter and if you are already a fan of my books, I would be happy to gift books to anyone you want.
Also- an advanced copy of my yet unreleased novel, Perfectly Imperfect will be included as a signed paperback, sent directly to you.
Thank you so much- and below is a little excerpt from a conversation Bill and Julie had after he received praise for his Military service. He was struggling, as many do, because some of his men never came home. I think what Julie told him is what so many of us believe, and need the brave men and women who serve so selflessly need to believe, too. This is from book 4, The Unexpected.
___________________________________________________________________________________
Bill made his way to the bed after getting changed. He was feeling pretty sore from the previous days efforts and he was looking forward to the doctor's appointment where they were going to remove the cast. He really hoped he could start to put some pressure on his leg. He maneuvered himself out of his wheelchair and sat on the bed, waiting for his body to settle down. He thought about the events of earlier in the day and his heart ached. He just didn't see things the way the others did.
Julie walked out of the bathroom after taking a shower and looked at her husband sitting on the side of the bed, his back to her. She towel dried her hair and walked to him, wrapping her towel around her body. "So, what's new?" she asked him as she sat down on the bed and took out her lotion. She began rubbing it on her arms.
He smiled with his back still to her. "You smell good."
"Thank you," she said.
He lifted his legs onto the bed and saw her sitting in a towel, rubbing her legs with the lotion he loved. "Do you want some help?"
She shrugged. "It might cost you."
He looked at her. "I can pay."
"I'm expensive."
"I know."
"What does that mean?"
"Would you prefer I called you cheap?" he laughed.
"Good point," she handed him the lotion and smiled. "Spread your legs."
He moved and she sat in front of him, her back to his chest. He put some of the lotion on his hands and began massaging her shoulders. She moved her wet hair to the side and he worked on her neck and then moved down her arms. He leaned into her and kissed her shoulder before opening the towel and exposing her back. She moaned as his hands worked down the middle of her back. She closed her eyes until he pressed lower and she gasped.
"What is it?" he was alarmed.
She shook her head. "Nothing, I think my back is still a little tender," she wiped her eyes and looked at him, his concern written all over his face. "I'm fine. I fell when they grabbed me before and I am sure I just bruised myself again. You know it doesn't take much for me to still get sore there."
He pulled her to him and held her tightly. She knew how torn up he was about everything and she hated to add to that pain. "I'm okay," she said softly.
He just held her and didn't say anything.
"You're squishing me," she said and grinned at him. He let her go and she turned to face him. "Want to talk about it?" she put her hands on his chest.
He shook his head.
"Okay, so how about if I talk and you listen," she said. He didn't object, so she continued. She turned back around and leaned against him. "Am I hurting your chest?"
"No," he wrapped his arms around her and she took his hands in hers.
"Good," she sighed. "I think you need to understand something. No matter how hard you try, you can't change what people see when they look at you. You are the epitome of what it means to be strong and to be brave. I know you hate the hero word, but seeing as I am a teacher, I need to educate you on something. My students often have to look up the word hero and figure out what it means. Being a hero doesn't mean that you don't lose sometimes. Being a hero doesn't mean that you can't doubt yourself. Being heroic certainly doesn't mean that you can't get mad at what happens. A hero is simply one who thinks more of others than themselves and no matter what the cost is to them personally; they do what they can to ensure the people around them are safe," she kissed his hand.
"It also means that after the battle, when everyone doesn't come home, the hero may feel like he failed. What's worse, when the people try to thank him, it makes all of his perceived failures so much worse. The fact that the hero takes such grief in each and every loss is what really and truly solidifies him as a hero."
She turned around and saw his blue eyes glistening with tears. "When people want to honor a hero with medals and titles, it is because they know how much it takes to be someone heroic. They need to honor you because it is all they can do to show you just what it means to them to know you and to learn from you. They aren't forgetting the ones lost and they aren't suggesting you deserved to be here more than anyone else. It is a tribute to you and a reminder to them to be the best in all situations," she felt her own tears fall and he cupped her cheek in his hand. "I am so proud to be your wife and I am most proud to be someone you feel is worthy of your love. I will never apologize for having you back and wanting you to survive," she sighed. "But I need you to be happy. I need you to be able to move on and to know that you deserve all of the love and all of the honor you receive."
He leaned down and pressed his mouth to hers, gently at first and then with more intensity. She felt her fingers and toes tingle with his kiss. He looked at her and smiled.
"Thanks. I needed to hear that," he said softly.
She nodded. "I know," she smiled. "But just remember. You may be a sergeant, but I will always outrank you."
He grinned and pulled her to him again, crashing his lips to hers.